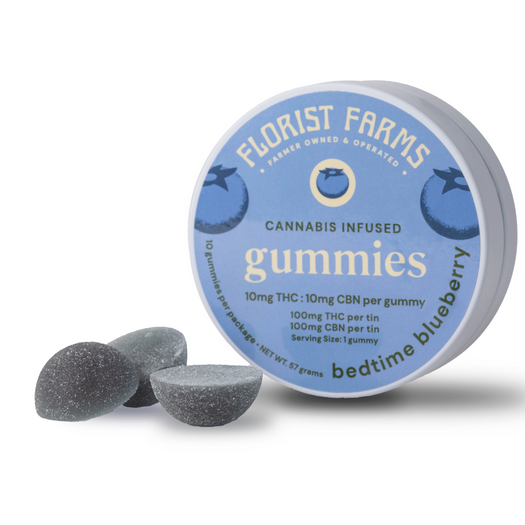 ---
Bedtime Blueberry Sleep Gummies
10 mg THC + 10 mg CBN per gummy
100 mg THC + 100 mg CBN per package
10 gummies per package

NY's finest cannabis extract with additional CBN measured and dosed with precision for a reliable way to end your day in comfort. These Bedtime Blueberry gummies are the perfect sweet treat nightcap to help you rest well and wake up feeling refreshed.

CBN (cannabinol) is a cannabinoid that helps a healthy body feel sleepy. Check out our CBN Tinctures at our sister company Head & Heal (make sure to read the reviews). 
INGREDIENTS: Corn Syrup, gelatin (bovine), sorbitol, citric acid, modified food starch (corn), flavoring, sunflower oil, Cannabis sativa extract, CBN isolate (Cannabis sativa), food coloring (Blue #1, Red #40, Red #3)
Our Gummies are...
Made with sun-grown cannabis from our organic farm in Cortland, NY (Finger Lakes region) using regenerative farming practices - improving soil health and paying farmers a living wage.
Mouth-wateringly delicious.
Precisely dosed.